Honor Best Co. Supplies Fasteners Meeting International Standards
---
Taipei, March 19, 2012 (CENS)--Uncompromised to quality, Honor Best Co., Ltd., a specialized supplier of fasteners in Taiwan, has successfully obtained world's major quality certificates, capable of making different fasteners in complete compliance with international standards.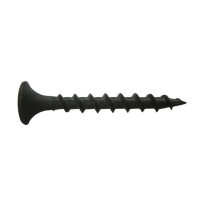 The company claimed that it has consistently carried out quality control measures and factory layouts according to requirements of ISO systems since its establishment in 1984, and has hence been certificated by ISO 9001:2008 and ISO 9002.

The cutting-edge coating technology, Green Land, the company proudly emphasized, is a result of its unremitting efforts on continuous improvements of product quality, which have also contributed to its current success in the line.

The company pointed out that after going through the coating technology, fasteners can withstand a salt spray test regulated in line with the ASTM B-117 standard for over 5,000 hours and 15-40 cycles of Kestmich test conforming to DIN 50018. The company claimed that the Green Land coating technology is developed to meet the requirements of ACQ-treated lumber, and has proven effective in the test complying with AWPA E12-94 standards to enhance resistance to corrosion.

Furthermore, the company has also been able to supply Cr6+ (hexavalent) zinc plating screws that meet 2000/53/EU and 2002/96/EU requirements.

At present, the company turns out a variety of fasteners, including drywall screws, chipboard screws, concrete screws, self-drilling screws, decking screws, collated screws, window frame screws, nylon hammer fix screws, roofing screws, special screws, bolts, washers and nails, all of which are available in different specifications and sizes conforming to the U.S.'s ANSI, Germany's DIN, the U.K.'s BS and Japan's JIS standards.

The company has built positive business links with professional buyers from Canada, German, France, the U.S., the U.K. and other countries in Europe, enjoying a high profile over peers due to its great dedication to quality.